Some links to products and partners on this website will earn an affiliate commission.
Flying to Bali from Amsterdam gives you many options in terms of airlines to choose from, including Garuda Indonesia via Jakarta. The national airline of Indonesia has been awarded 5-stars by Skytrax and also the cabin crew and Economy Class have been classified as 'World's Best' on multiple occasions. It was a while ago when I last flew Garuda, utilising their short fifth freedom flight between Amsterdam and London Gatwick. I was very curious to check out Garuda on a longhaul flight.
Pre-flight
Seat selection is not free of charge for every ticket with Garuda. Travellers with fare classes Y/B/M/K/N/G can select their seat free of charge in advance. Passengers with a cheaper ticket pay 40 to 60 USD for the flight to Jakarta. Skyteam Elite Plus members can always select a seat at no cost, including the exit row.
Online check-in is available from 24 hours before departure. Of course, it is then possible to select a standard seat without charge. As my flight was not during peak season, I expected the flight would be rather empty, especially because Garuda uses a high-density 777 from Amsterdam. As a result, I selected a seat in the most aft cabin of the aircraft, hoping I could get a row to myself.
As expected, there were no queues at check-in and I was immediately assisted at the SkyPriority desk. Also in Economy, passengers are given a 30kg luggage allowance. The baggage was labeled all the way through to Denpasar and I received the boarding passes for both flights. I asked if the flight was full, and if there was any chance of an empty seat next to me. The agent confirmed there were plenty of empty seats, and changed my seat to a row of three next to the window. Security and passport control were swift. Without lounge access, I headed straight to the gate where the triple seven was already waiting.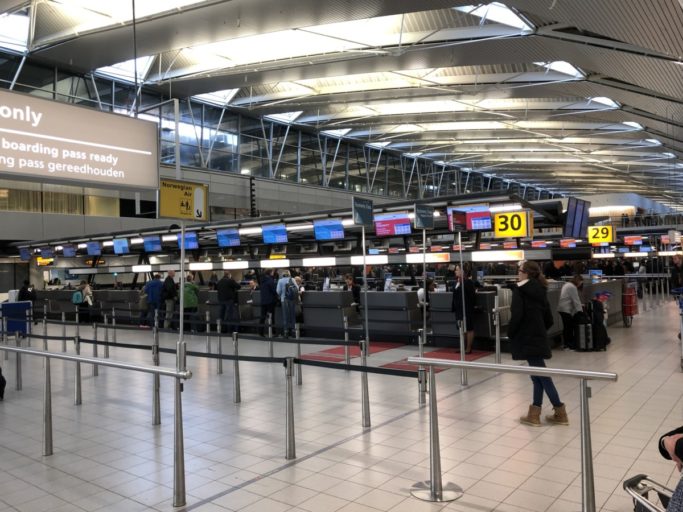 Boarding was orderly, with SkyPriority passengers going first. After that, boarding was executed by row number.
Garuda Indonesia Economy Class
Once aboard, I made my way to my seat in row 52 on the right side of the plane. The forward part of Economy was quite full, but the aft cabins were a different story. As I was hoping, I (and many other passengers) got a row of three to myself. Garuda has a comfortabele 3-3-3 lay-out in its Economy Class. Many airlines nowadays have so-called ten-abreast seating on their 777's. The difference in seat width is definitely noticeable and personally I won't fly longhaul in the tight 3-4-3 lay-out any more.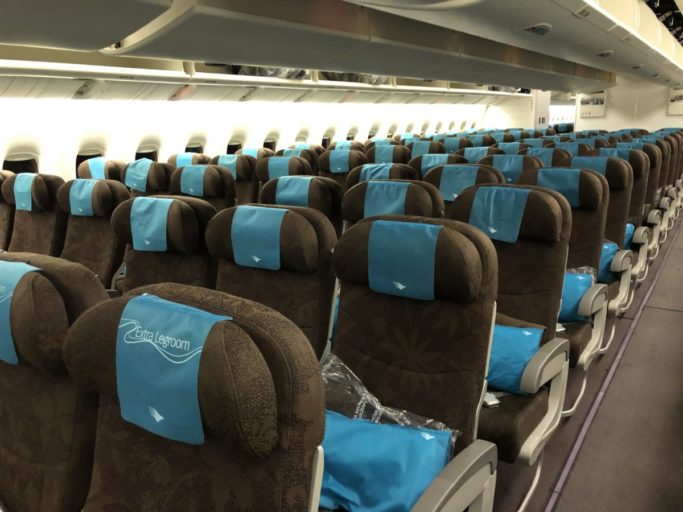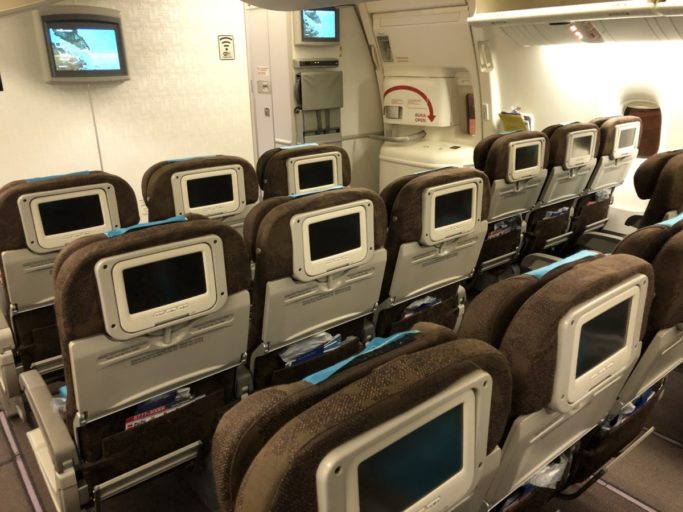 The seats have 32 inches of pitch; an inch more than the industry standard. The seat itself is therefore quite spacious and comfortable compared with other airlines. However I am not a fan of the metal footrest – it is inconveniently placed and you easily bump into it. A pillow and nice blanket were already waiting on the seat, as was a standard headset for the In Flight Entertainment system.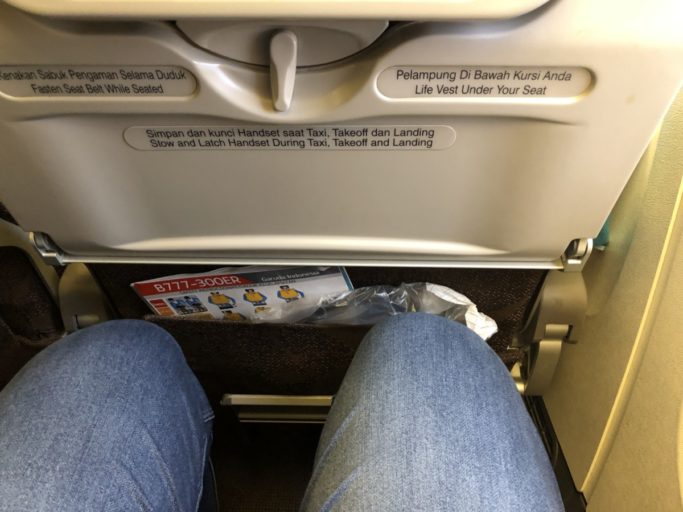 After the doors were closed, the purser and captain came on the PA for their welcome announcements. In the meantime, service started – while still on the ground! The crew came by with a bottle of water and a packaged wetwipe. Receiving a pre-departure drink in Economy Class is quite remarkable. Also a basic amenity kit featuring socks and a sleeping mask were handed out.
After take-off, the plane set course for Jakarta. The touchscreen, measuring 9 inches, is on the small side and offers an adequate resolution. The system offers a couple of dozen movies, TV-series, music and games. The selection for the next two months is listed on the website. Additionally there is live-TV. The remote-control is located in the armrest, which is a pet-peeve of mine. Under the seat there is also a USB-port and a powerplug for charging your devices.
Garuda also offers in-flight wifi through T-Mobile, based on time, or there is a package for messaging only, based with a data cap. 24 hours is charged at  USD 21.95.
Service started with a round of drinks and mixed nuts. I noticed how many cabin crew were working the aisles. I did not count them all, but it was clear there was more staff than at other airlines. As a result, the service was very good and the crew was friendly and attentive.
During the meal service, there was a choice between Indonesian chicken and rice or beef and potatoes. Unfortunately, paper menus seem to have been cut. Also on the tray was a salad with carrots, cheese and crackers, and a slice of cake. A bread bun was served on the side too. The meal tasted fine, but the portion size was not very large.
After the meal service, it became dark outside and the cabin the lights were dimmed. With a row next to the windows, I could lean comfortably against the wall and watched some series on my laptop.
During the flight, passengers can find various snacks as well as bottles of water in the galley. The crew also regularly came through the cabin with trays of drinks. I noticed the crew was very vigilant with clearing any trash in the cabin immediately. Also, the toilets were kept very clean throughout the flight. Toothbrush sets are also provided in the lavatories.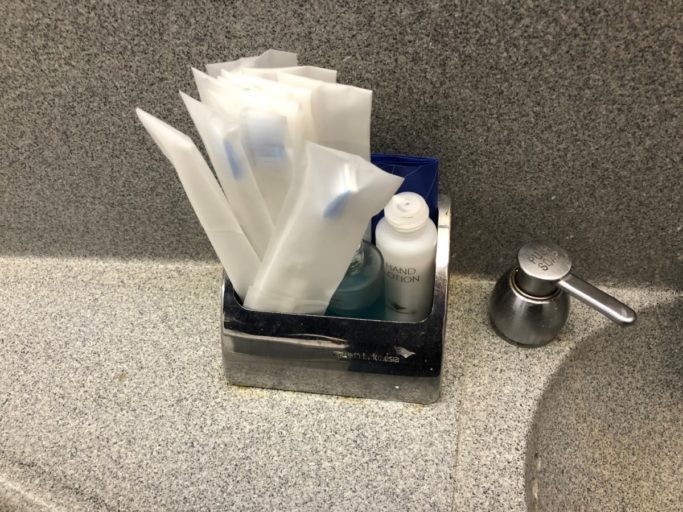 Halfway through the flight, the second service started. I found it odd that all the lights went on. The service comprised of a muffin and a selection from the snack basket with popcorn, crisps and nuts, and a bottle of water.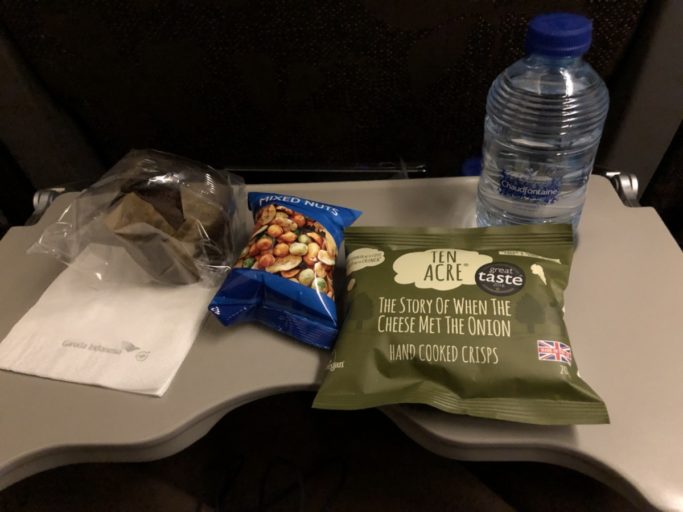 I then tried to sleep for a couple of hours. With an improvised flat bed and three blankets and pillows, that worked out pretty well.
Once awake, there were 3 hours remaining. 2.5 hours before landing, breakfast was serviced. There was a choice between chicken with rice and a frittata. Both were served with a cup of fruit and yoghurt.
After the descent was initiated, the crew prepped the cabin for arrival. After a smooth touchdown, the aircraft docked at the new terminal and my transfer to Bali began.
Garuda from London
Garuda Indonesia also flies from London Heathrow three times a week to Jakarta. On Tuesday and Saturday, the flights depart London at 21:45h and arrive in Jakarta the next day at 18:15h. This offers the option to connect to destinations like Bali or even Sydney. The Thursday flight is operated three hours earlier. On the way back, the flights on Tuesday and Saturday depart in the morning at 11:25h and arrive in London at 20:00h. Again, the Tuesday flight operates three hours earlier. The flights are non-stop nowadays. Some of the return flight used to stop in Singapore for weight-restriction reasons.
On the LHR flight, Garuda uses a three-cabin Boeing 777. In First Class, there are 8 Suites in a 1-2-1 configuration.
In Business Class, there is also a comfortable and private 1-2-1 lay-out with a seat that goes fully flat. In Economy, there are 268 seats.
Bottom line
Flying in Economy with Garuda was a relatively pleasant experience. The 3-3-3 layout is less tight than many competitors, the crew were excellent, the food was perfectly edible and I got 3 seats to myself! I wouldn't hesitate to fly with Garuda again.