Some links to products and partners on this website will earn an affiliate commission.
To help sprinkle a little sunshine into the ongoing winter lockdown, we thought we would share some reviews of beautiful places. 
Today's Saturday Escape is from our good friend and colleague at InsideFlyer Netherlands, Christian:
Kimpton De Witt Hotel Amsterdam – Location
The Kimpton De Witt Hotel was the first Kimpton Hotels established in Europe. There are now seven Kimpton Hotels in Europe, however, most Kimpton Hotels are in North America.
The Kimpton De Witt is centrally located in Amsterdam on the Nieuwezijds Voorburgwal. This is near the central train station and the main sights of the Dutch capital can be reached on foot or by tram. Are you coming by public transport? Then this is really an ideal hotel. You are there on foot within ten minutes.
The hotel is also easily accessible by car. The Kimpton has its own parking garage with a limited number of spaces that you can reserve in advance. This costs a very expensive €55 per day as standard, but packages are available including parking costs. Upon arrival, it is possible to park in front of the hotel for unloading suitcases and bags. The parking garage is located next to the hotel and is easy to reach.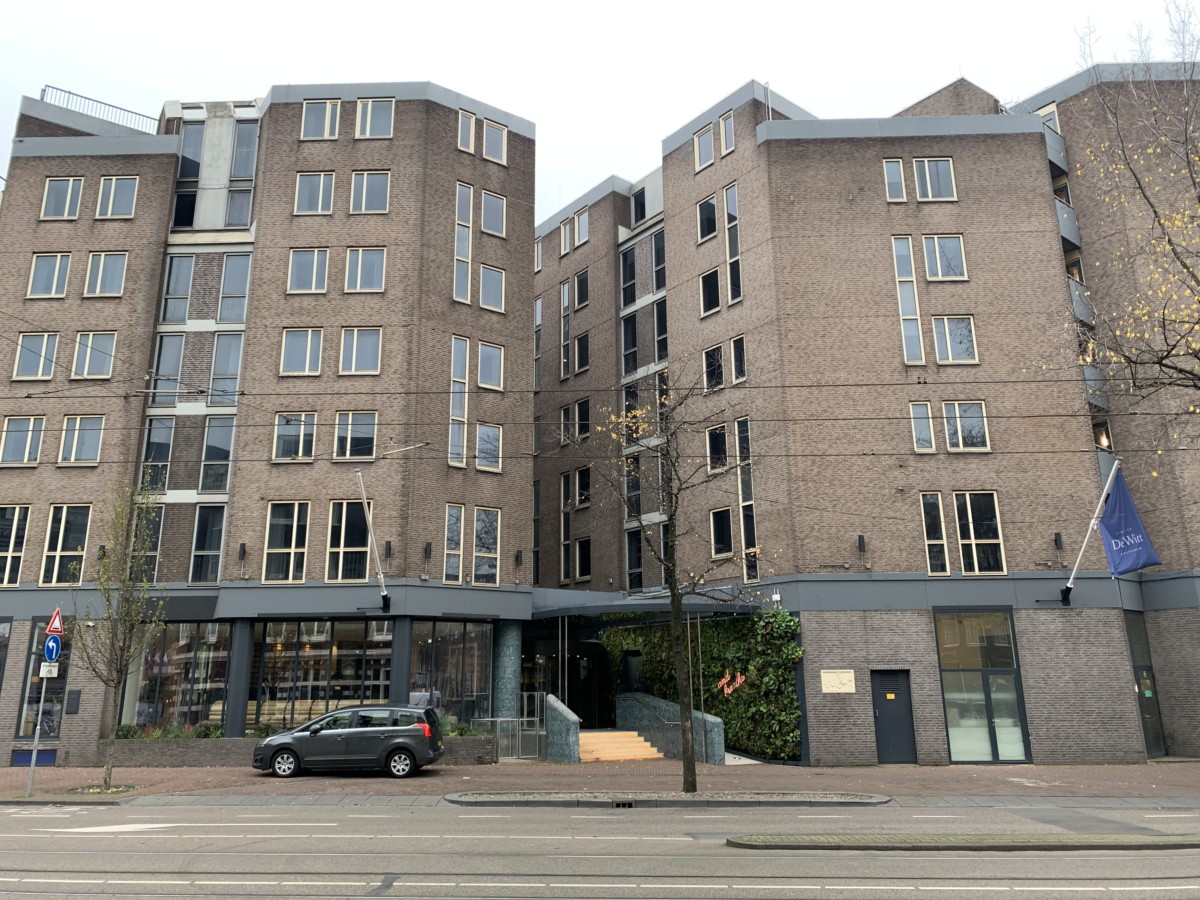 Reception and Check-in
When you enter the hotel you immediately notice that you are leaving the hustle and bustle of the street behind. The lobby is tastefully decorated with natural materials and many plants. In connection with the current Corona measures you will be asked to disinfect your hands. Wearing a face mask is mandatory, all employees also wear a face mask.
The check-in ran smoothly because I had already filled in all the details online in advance via the IHG App. At check-in, you will also be asked for a valid ID and a credit card for the deposit and room service. It was my first time in a Kimpton Hotel, but of course I had already heard of the Kimpton Secret Password . The lady on reception was happy to hear this and started thinking about an appropriate surprise.
It is good to know that this hotel is pet-friendly. I brought my dog ​​for this occasion. At check-in I was even offered an extra bed especially for my dog! Several other hotel guests had also brought their dogs.

The Room: King Executive
The Kimpton De Witt Hotel has 274 rooms and suites, divided into various types. I booked the Mini Escape package with a Deluxe room. The package includes parking, breakfast, €50 restaurant or room service credit and two cocktails from the Super Lyan bar. This package for two people cost €149 at the time of booking, which is a tremendous deal.
My Platinum Elite status with IHG Rewards Club gave me a free upgrade to a larger King Executive room.
The King Executive room has a hallway at the entrance that leads to the room. Here you will immediately find a fridge with water, a Nespresso coffee machine and a kettle. There is also a tin with more than enough coffee cups, teabags and sugar / milk. Then there is a wardrobe for clothes and coats.The bedroom consists of a large king-size bed with a bedside table and electrical outlets on either side. A sofa with a table has been placed in front of the bed. There is also a desk with a television. There are Tube Audio Bluetooth speakers from LEFF Amsterdam.
The windows by the bed have a beautiful view of the Nieuwezijds Voorburgwal and the city. However the windows opposite the bed overlook an office, so it is better to keep those curtains closed.

The bathroom is reasonably spacious with a separate rain shower and separate toilet. The bathroom includes bathrobes and toiletries from the Amsterdam brand Marie-Stella-Maris. I think this is a bit limited, as only soaps and hand cream were available. You can normally expect a bit more in a luxury boutique hotel.

Restaurant and Cocktail bar
The hotel features the on-site Celia restaurant and a cocktail bar called Super Lyan. The lobby continues into a kind of lounge where a Wine Hour is regularly organised. During the stay I was also invited to this. The package I booked included two cocktails and a €50 credit for the restaurant or room service. As a Platinum Elite member of IHG Rewards Club, I also got a €15 discount on drinks in the restaurant. Although the menu is limited at the time of Corona, there are still a number of tasty dishes and desserts to order.
Breakfast is also served in Restaurant Celia. Here too, the course of events is different from normal. The entire order is taken at the table and then served out. Coffee, tea and fruit juice are replenished. You also get a basket with sandwiches and sweet baked goods. With the current Corona measures, both dinner and breakfast were well organised and also very tasty.

Facilities
In addition to the listed facilities such as the parking garage, the restaurant and the cocktail bar, there are more options. There is a business centre with computers where you can use to print from. The gym was closed at the time of my, visit which I personally thought was a shame. All hotel guests can rent bicycles for free (subject to availability). Free high-speed WiFi is available in the entire hotel.
IHG Rewards Club
Because of my Platinum Elite status at IHG Rewards Club, I enjoyed various benefits at the Kimpton De Witt Amsterdam. For example, I got a free upgrade from the Deluxe Room to the Executive King room. At check-in, I received an additional 600 points as a welcome gift. I also received bonus points based on the total bill. A late check-out was no problem.
Because I had named the Kimpton Secret Password, I got a nice surprise in the room. Finally, a €15 discount was given on the drinks at the restaurant. So I can say that my membership certainly came in handy here.
Surprise from using the Kimpton Secret Password  (Picture: InsideFlyer)