Some links to products and partners on this website will earn an affiliate commission.
Garuda Indonesia has introduced two new products in Economy Class on its recently launched London Heathrow to Denpasar Bali (and return Jakarta-London) route. Passengers can now choose for 'ESCort' and 'Premium' seats. As well as increased space and comfort, these products also include various extras before and during the flight to make the travel experience feel more premium. The new products are available through Garuda's website for online booking as a separate fare.
Garuda EScort
Passengers who opt for Garuda ESCort will get an entire row of three seats in the Economy Class cabin. To aid sleep, a mattress, duvet, pillow and blanket are provided. Furthermore, travelers will receive a meal and amenity kit from Business Class. A voucher worth 5 USD for the inflight wifi is also given. On the ground, passengers receive an increased baggage allowance of 40kg as well as priority baggage handling. Members of Garuda's frequent flyer programme earn 200% miles for booking EScort fares.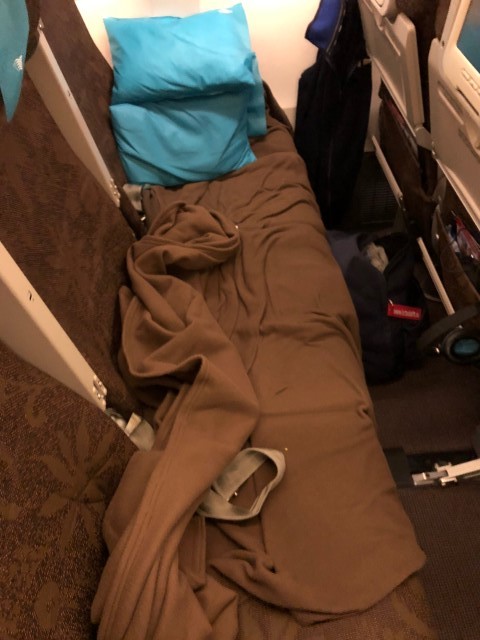 Garuda Premium
Passengers who do not need an entire row for themselves can choose 'Garuda Premium', where the seat next to that of the passenger will be kept free. The bedding is limited to an extra duvet. Premium passengers do also get the Business Class meal and amenity kit, and the baggage benefits. Garuda frequent flyers can earn 150% miles for 'Premium' fares.
Same type of seat
It is important to note that the physical seat is not different than in regular Economy Class. Contrary to, for example, China Airlines' Skycouch where the bottom of the seat folds up to form a larger sleeping surface.
Garuda's new products are likely aimed at increasing the yield on the route. The SkyTeam airline has been struggling with the London service. Last year the route was suspended briefly and then reinstated again to a non-stop service to Bali on the outbound. Reportedly the flight covers such a large distance that there are weight restrictions. Offering the EScort and Premium product may result in revenue from selling the blocked seats that would not have been sold anyway.
The price difference of Premium versus Economy is not too bad. For ESCort you pay about 50% more compared to the cheapest Economy fare on a random date in May.
What do you think about the new Economy products Garuda is offering?