Some links to products and partners on this website will earn an affiliate commission.
Want to fly the Qsuite yourself?
You now have a chance at winning 100,000 Qmiles (contest runs until February 13th 2020):
Qatar Airways has been widely praised for its innovative business class product known as the Qsuite. Both the cabin itself, service, food and drinks rate highly with frequent flyers. The Doha-based airline has received various awards for this. For example, Qatar Airways has been rated by Skytrax as one of the ten 5 star airlines worldwide, partly due to the Qsuite.
You can take a 'virtual tour' of the Qsuites cabin below:
Qatar Airways' Qsuite routes
Qatar does not currently offer Qsuites on all routes. On the other routes you would be flying in a "normal" business class seat, which while comfortable, is clearly not a 'suite' seat.
The Qsuite can be found on routes from/to Africa, Asia, Europe, the Middle East and North and South America. Below is an overview of the routes per continent.
Do note though that even on the routes listed below, not every flight will necessarily be operated by an aircraft equipped with Qsuites (check the specific flight numbers!) and that equipment swaps can still happen even at the last moment.
North and South America
Qatar has excellent network coverage in North and South America. There are eleven cities that you can fly to in a Qsuite, including: Chicago (ORD), Houston (IAH), New York (JFK), Washington (IAD), Los Angeles (LAX), Dallas / Forth Worth (DFW), Atlanta (ATL), Boston (BOS) and Philadelphia (PHL). Then there is Montreal (YUL) in Canada. Finally, you can fly from/to São Paulo (GRU) in Brazil and Buenos Aires (EZE) in Argentina in the Qsuite.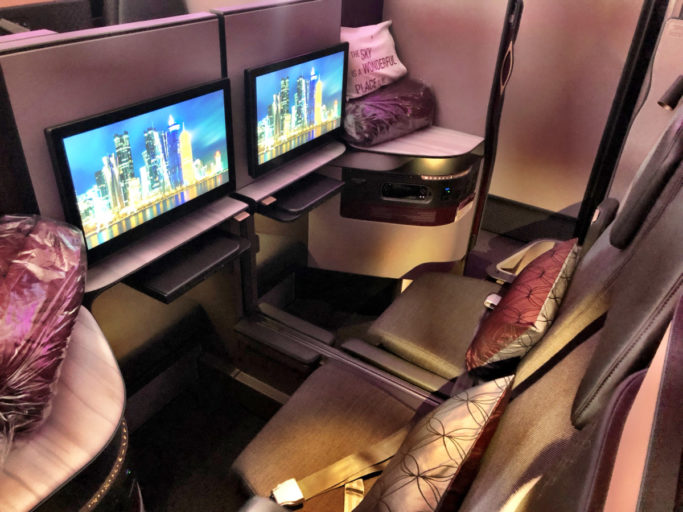 Asia
There are plenty of chances to try a Qsuite to/from Asia. We have also included Australia and New Zealand in the list below:
You can go to three cities in India – Bangalore (BLR), Delhi (DEL) and Mumbai (BOM). There is also the Maldives (MLE) and Colombo (CMB) nearby.
In Thailand and Malaysia, Qatar flies to the capital cities of Bangkok (BKK) and Kuala Lumpur (KUL), as well as to Singapore (SIN).
Beijing (PEK), Shanghai (PVG), Hong Kong (HKG), Seoul (ICN), and both Tokyo Narita (NRT) and Haneda (HND) are further options.
As regards Australia, you can find Qsuites flying to Sydney (SYD), Canberra (CBR) and Adelaide (ADL) If you want to fly a little further, you can take a Qsuite to Auckland (AKL), New Zealand too.
Europe
In Europe Qatar Airways operates the Qsuite to Paris (CDG), London (LHR), Manchester (MAN), Edinburgh (EDI), Copenhagen (CPH), Amsterdam (AMS), Stockholm (ARN), Malaga (AGP), Berlin (TXL), Frankfurt (FRA) and Munich (MUC), Zurich (ZHR) and Milan (MXP).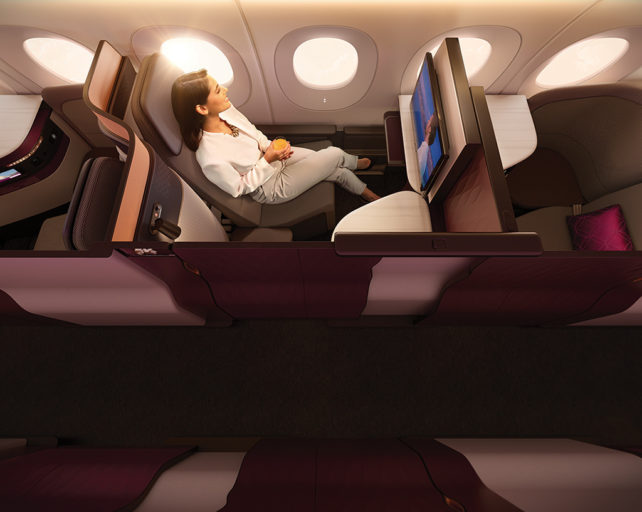 Middle East
From Doha you fly in a Qsuite to only three cities in the Middle East. That makes sense, because the distances are relatively short. The three cities are Kuwait (KWI), Muscat (MCT) and Beirut (BEY).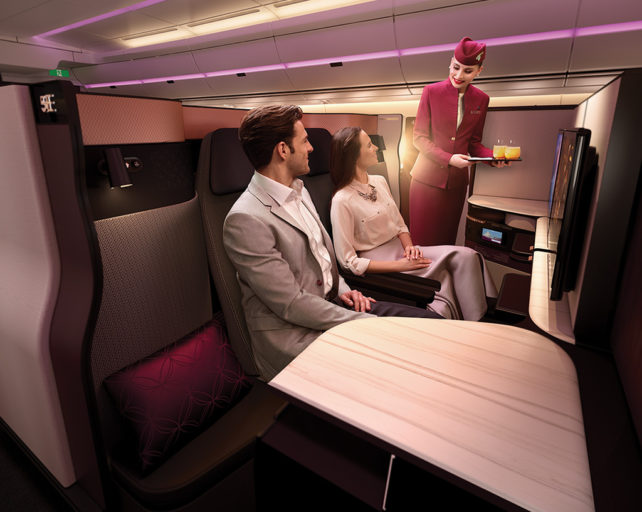 Africa
Qatar Airways flies from Doha (DOH) to Cape Town (CPT) and Johannesburg (JNB). These are flight numbers QR1369 / 1370 and QR1363 / 1364, respectively.
Qatar Airways Privilege Club
When you're flying with Qatar Airways you can earn Qmiles and Qpoints in the Privilege Club loyalty programme.
With Qpoints you will be able to reach higher membership levels in Privilege Club. Qmiles can be redeemed for flights with Qatar Airways and its partners. How many points/miles you earn depends on your ticket class and Privilege Club membership level. The Privilege Club Qcalculator is a great tool to find out how many points and miles you will earn on your trip.
What are your experiences with Qatar Airways? Have you flown in a Qsuite before? Let us know in the comments!