Some links to products and partners on this website will earn an affiliate commission.
I posted last night about what might well be the best value Hilton Honors redemption in the world – 5 nights at the excellent Hilton Salalah Resort in Oman for just 20,000 Hilton Honors Points.
The obvious question is 'how do I get to Salalah?'. It's pretty remote, so the only really convenient way is to fly with Oman Air from the capital, Muscat (how you get to Muscat is your own business, though I would suggest using American Aadvantage Miles to fly on Etihad personally!).
Cash fares between Muscat and Salalah in Economy are good value at about £70 Return:
Business Class is more fun, but also slightly ruinous at £300+ for a couple of short flights:
Fortunately, there is a superb option using Miles: Etihad Guest partners with Oman Air and charges just 6,000 Miles each way (+~£10 tax) in Business Class, or 3,000 Miles each way in Economy.
You can check out Etihad Guest's full award chart for Oman Air here.
Collecting Etihad Guest Miles is fairly easy as it's a 1:1 American Express Membership Rewards transfer partner and there's a UK credit card issued by MBNA too.
Is Oman Air Domestic Business Class any good?
In the piece on the Hilton Salalah Resort, I included a review from InsideFlyer Netherlands contributor Goffe de Boer. Here's Goffe's take on Oman Air domestic Business Class:
After a great stay at the Hilton Salalah Resort, I took a taxi to the airport. For only $14 and 6,000 Etihad Guest miles I had booked a award flight with Oman Air in business class from Salalah to Muscat.
Salalah airport is not very big but looks modern. There aren't many airlines that fly there – in addition to the route to Muscat, Oman Air also operates a flight to Dubai.  Qatar Airways also offer a flight to Doha, but apart from that there are just a few charter airlines flying tourists from Italy and Poland.
Check-in and Lounge
At Oman Air's business class check-in, I was seen immediately at the desk. I was told that there are two lounges at the airport, namely the Oman Air Lounge and the Plaza Premium Lounge. I had free access to the Oman Air Lounge because I was flying business class.
Armed with my passport and boarding pass with invitation to the lounge, I went through security to the lounge. This was almost at the end of the corridor, right at my gate 3B. I still had about 1 hour to spend in the lounge. Like the airport, the lounge also looks modern. On the left is the buffet area where you can also enjoy hot dishes in addition to tasty snacks.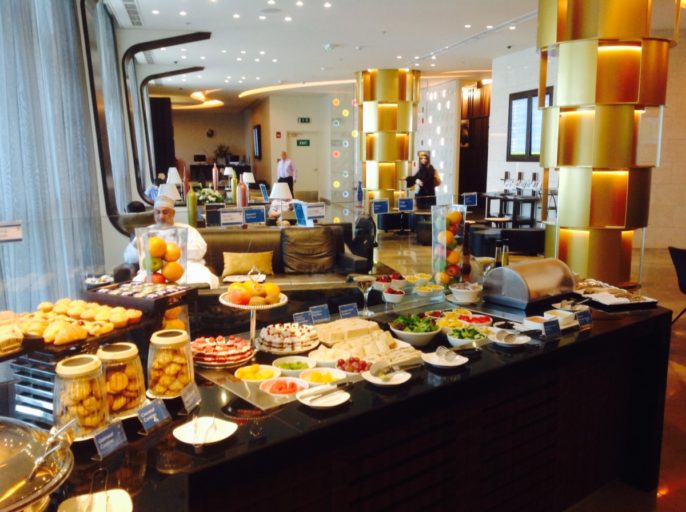 However, no alcohol is offered in this lounge. On the right are some sun loungers and a computer corner. There are even massage chairs in this lounge. All seats are nicely fitted with power outlets. After about an hour it was time to board for my flight to Muscat.
Boarding
This flight was scheduled to be on a Boeing 737-800, but when I entered I saw that it was replaced by an Embraer 175. This plane has 11 seats in business class in one 1-2 configuration and 60 in economy in a 2-2 configuration. I had seat 3A, a single seat.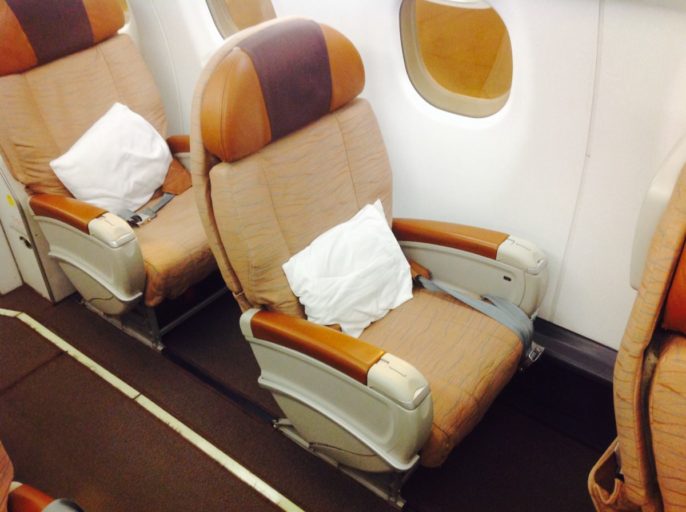 The seats offer plenty of legroom for a short flight, especially for someone of 1.87m like me. My bag did not fit in the luggage compartment above my seat, but I was immediately offered the option to store my bag somewhere else. Then a warm cloth was offered. For pre-departure drinks I could choose between water or juice. There is no alcohol on domestic flights with Oman Air.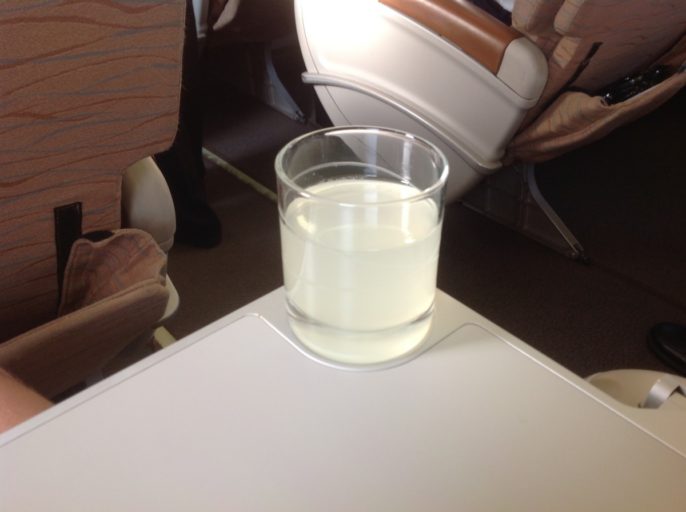 The flight
After that, it did not take long before we taxied to the runway. The flight time would be about 1 hour and 30 minutes. The crew soon came to ask what we wanted to eat – there were a couple of mains to choose from and I opted for the meat option. This was served with some fruit, a dessert and orange juice.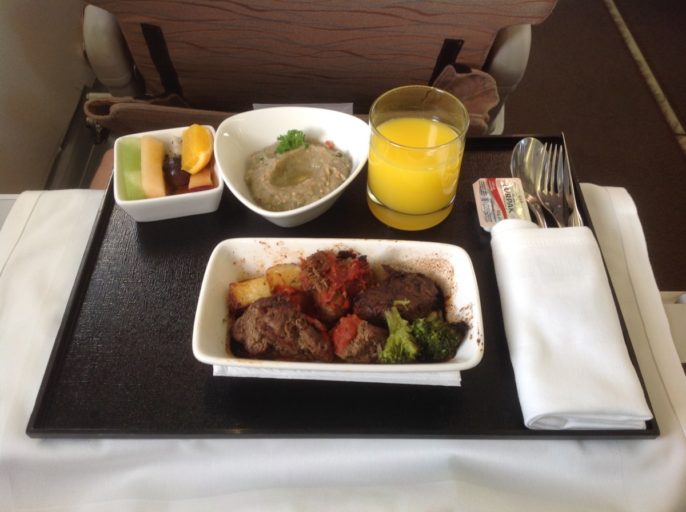 While enjoying a beautiful sunset, I tucked into this rather delicious meal, before deciding to flick through the in-flight entertainment. There was plenty of choice (movies, tv and music) so I certainly did not have time to get bored.
Soon after, we landed in Muscat. I thanked the crew for the friendly service and we were taken to the terminal by bus.
Conclusion
I had a pleasant flight with Oman Air. The lounge in Salalah has excellent facilities, especially for such short flights. The comfortable seats on board the Embraer 175 offer plenty of legroom and the crew was extremely friendly. The food on board is of good quality. However, no alcohol is given on flights within Oman. After this short flight I can not wait to fly long haul with Oman Air!