Some links to products and partners on this website will earn an affiliate commission.
If you're a regular reader of InsideFlyer, you'll probably have seen us mention the Hilton Salalah Resort in Oman before. That may sound a trifle random, but for many 'travel hackers' there's something almost mystical about the idea of the Hilton Salalah Resort. Why? Because it's probably the best value Hilton redemption in the world.
Let me explain…
Category 1 Hilton Honors hotels only require 5,000 Hilton Honors Points per night, which is an extremely good deal, given that you can frequently buy 5,000 Points for under £20.
The problem, of course, is that there aren't many Category 1 hotels around these days – and the ones that do still exist aren't always hugely desirable.
Probably due to seeming relatively tricky to get to (it can actually be cheap and easy as I'll explain tomorrow!), the Hilton Salalah Resort in the Southwest of Oman has managed to avoid being raised to a higher Category, despite being a very good hotel in a fascinating country.
In case you think 5,000 Points per night is still a little steep ( 🙂 ), remember that Hilton Honors offers a 5th night free on award bookings, so you can stay 5 nights for just 20,000 Points!
We've written about the myriad benefits of Hilton Gold status many times and how easy it is to get. At the Hilton Salalah Resort, Gold status would get you free breakfast and a range of other benefits for your 4,000 Points per night. Not bad!
Hilton Salalah Resort Review
InsideFlyer Netherlands contributor Goffe de Boer had the chance to check out the Hilton Salalah in person recently and this is his review:
Two weeks ago I stayed while traveling through Oman at the Hilton Salalah Resort. I had saved quite a few Hilton points over the past few months and decided it was time to spend som. For only 20,000 Hilton Honors points I booked the Hilton Salalah Resort for 5 nights.
After a comfortable flight with Oman Air in business class from Muscat, I arrived at Salalah's modern airport. By taxi I then went to the hotel located on the west side of the resort. As is the case with most resorts, there is not much to do in the vicinity. If you want to go to the center of Salalah, take a taxi.
Check in
As I entered the hotel, I was pleasantly surprised by the atmospheric lobby. In the middle of the big circle are some comfortable sofas and on the right the reception desk.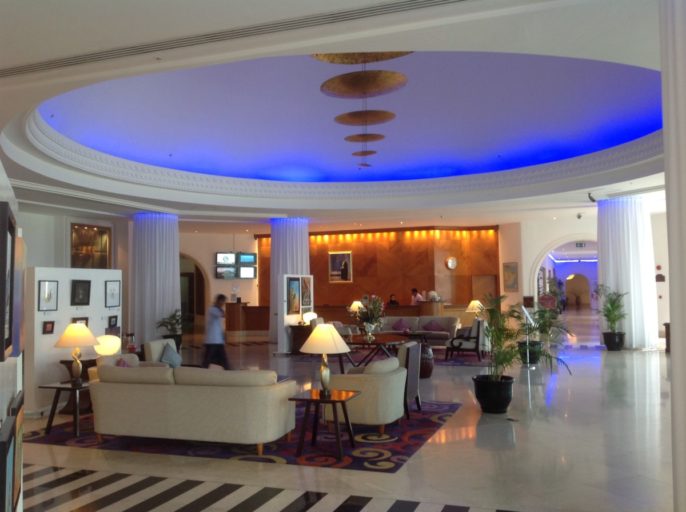 It was very quiet when I wanted to check in. After being kindly welcomed as a Diamond member, I was told what facilities the hotel has and received my keys for the room – my stay could officially begin!
Room
I had room 407 on the fourth floor. On the table was a welcome gift: a fruit bowl with dates and other tasty snacks.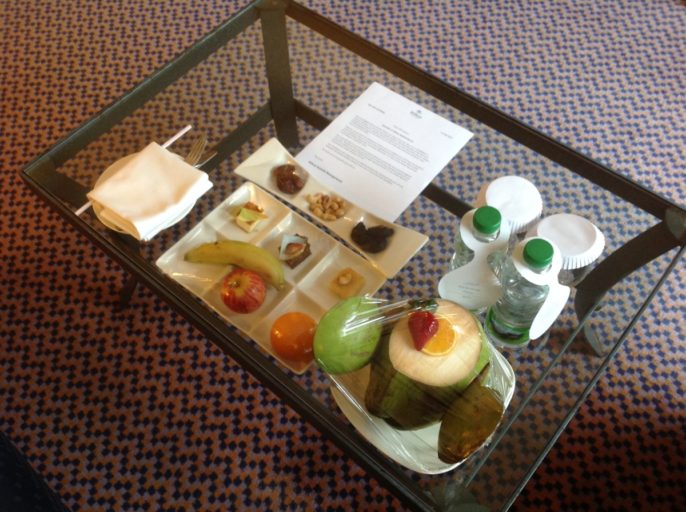 The king bed was very big and had lovely soft linens.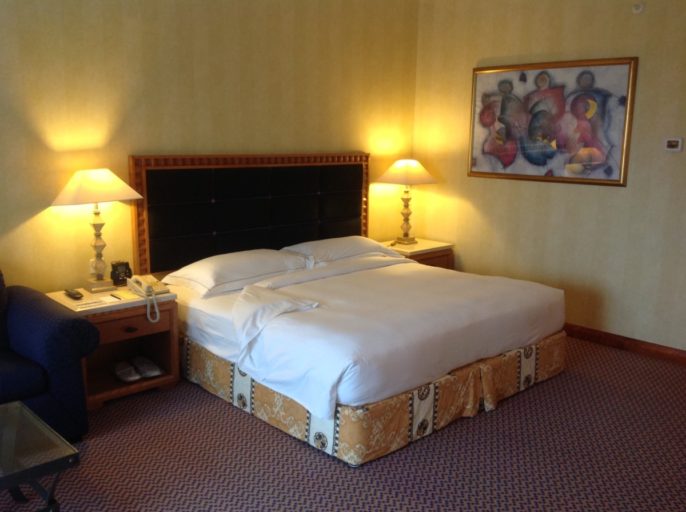 In addition to coffee and tea facilities, there is also a minibar. Unfortunately, this was not free. To the right of the television there is another desk I could work on. Further down there is a seating area. Overall, I found the furniture to be old-fashioned, especially when compared to the newer Hilton hotels I recently stayed at.
The bathroom was well looked after. There are plenty of soaps and shampoos on the sink, and there was no lack of towels. There is no separate shower cubicle, but a bath with both a large and a small shower head.
From my room I had a great view of the pool and the beach. Behind the sliding door is the balcony where I had the sun all day.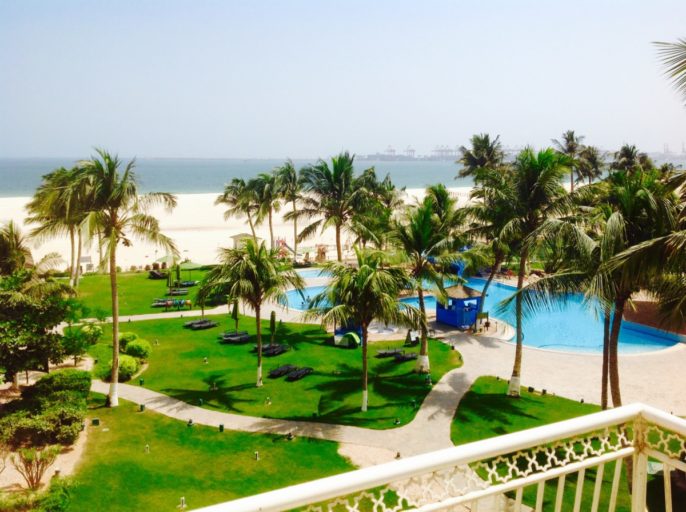 Facilities
The hotel has two restaurants. Palm Grove Restaurant is located on the beach and serves fish dishes alongside local dishes. Are you more of a meat lover? Then go to Sheba's Steak House. I ate at both restaurants  and both times I was very pleased. At Sheba's Steak House, the cook even came to ask if everything was good. There is also Whispers Bar where you can enjoy a light meal in addition to tasty drinks.
The hotel has a fairly large swimming pool with a pleasant water temperature. There are plenty of sun loungers at the pool and on the grass. Free towels can be obtained by handing in a pass at the poolside bar. Further down there is the wide beach on the Arabian Sea.
The hotel also has a souvenir shop and excursions are also available for sightseeing in the area. Finally, there is the gym located on the ground floor. In addition to fitness area you can also go for a massage.
Breakfast
Breakfast is served each morning in the nicely furnished breakfast room on the ground floor. The moment I entered, my room number was asked, after which I could choose a seat. I was immediately asked what I wanted to drink. The room is not big but the range of food is wide, with options like croissants and pastries, pancakes and delicious fresh fruits. I especially liked the very tasty cheese omelet!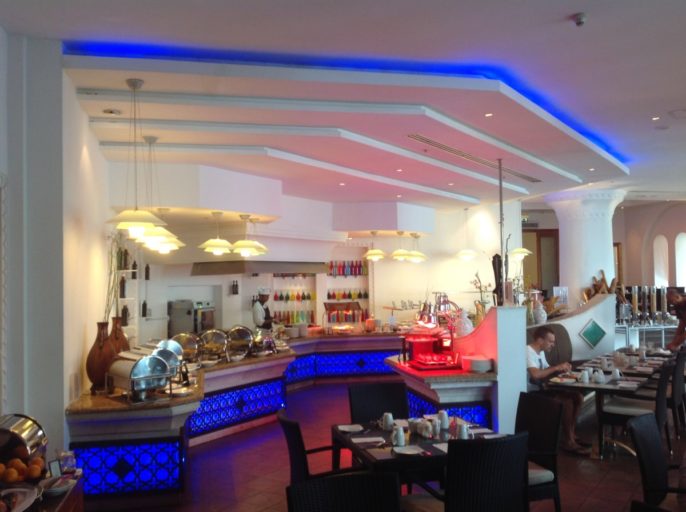 Conclusion
I had a very pleasant stay at the Hilton Salalah Resort. The staff are friendly and the service is excellent! The hotel offers plenty of facilities such as restaurants, bars, a swimming pool and a gym so you do not even have to leave the grounds if you don't want to!