Some links to products and partners on this website will earn an affiliate commission.
Every month 'Miles & More' releases a new list of Mileage Bargains, offering seriously big discounts on the Miles required to a range of destinations, in both Economy and Business Class. Miles & More is the loyalty program for Lufthansa, Swiss, Brussels, etc. The Mileage Bargains for July cover several different sets of dates, depending on the destination.
Miles & More Mileage Bargains
The Miles & More Mileage Bargains have their own website these days, which makes searching pretty quick and easy. The filter options make narrowing your search down even easier too, if you have something specific in mind:
With the filters, you can specify which country you wish to depart from, the airport, how many miles you want to spend (in tiers 10,000 miles), in which travel period you want to travel, the Class you want to travel in, and which airline you would like to fly.
Miles & More Mileage Bargains July 2017
The airlines that offer Mileage Bargains are Brussels Airlines, Lufthansa, Swiss, Austrian and LOT. All the destinations for these Miles & More Mileage Bargains for July can be found here.
 Mileage Bargains examples (note that the prices below are the total amount of Miles required for RETURN flights):
Bangkok for 70,000 Miles in Business
Boston for 30,000 Miles in Economy or 55,000 in Business
Montreal for 30,000 Miles in Economy or 55,000 in Business
Osaka for 70,000 Miles in Business
Los Angeles 30,000 Miles in Economy
Seoul for 70,000 Miles in Business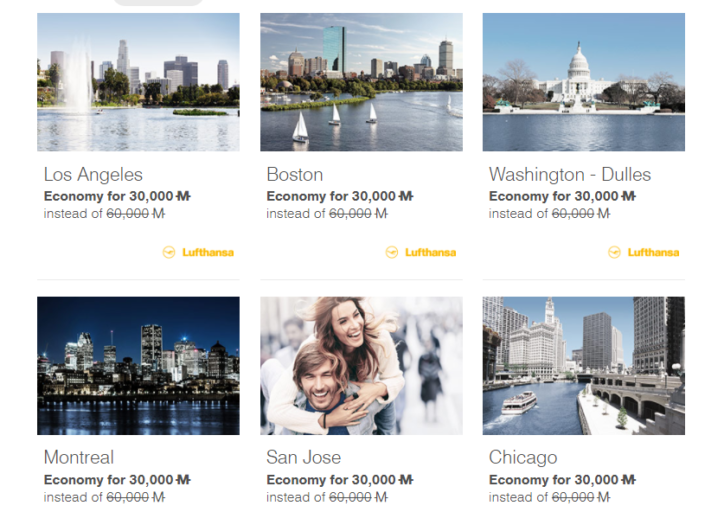 Surcharges?
Unfortunately, yes – and substantial ones at that.
Taxes / fees on Economy class tickets are on the high side (~£300 for long-haul Return), so I don't really see much value there, even with the discounted Miles – unless cash tickets are freakishly expensive.
Opting for Business Class is (relatively speaking) much better value for money, despite taxes/ fees usually floating around the £500-600 mark.
As with any promotion there are a number of conditions, which you can have a read of here.
Bottom line
'Mileage Bargains' aren't necessarily a tremendous bargain by the time you factor in the cash you'll have to pay on top – but they are one of the best ways to get at least reasonable value from M&M Miles.
Are you planning to book a Mileage Bargain? Let us know below or on forum!