Some links to products and partners on this website will earn an affiliate commission.
Hot on the heels of Marriott introducing a 'Global Cleanliness Council', Hilton has announced 'CleanStay' – a new programme designed to implement industry-leading standard for cleanliness and disinfection in Hilton properties around the world.
Hilton will be the first hospitality company to develop advanced processes and training for employees with RB, the manufacturer of the disinfectants Lysol and Dettol, and advice from Mayo Clinic, in order to provide guests with an even safer and cleaner stay from check-in to check-out
Higher cleanliness expectations during COVID-19
Hilton CleanStay is designed to adapt to the changing expectations of guests during the COVID-19 pandemic. New studies show that consumer concern about hygiene when travelling increases and trust in cleanliness standards will be crucial to boost travel again.
Hilton CleanStay "builds on the worldwide high hygiene standards in Hilton Hotels, in which commercial cleaning products are currently used and advanced cleaning processes are already being carried out today".
The goal of Hilton CleanStay is to provide guests with a sense of security and tranquillity when they are in one of the more than 6100 Hilton Hotels. The initiative will focus on cleanliness, which will be visible to guests throughout the hotel stay – in guest rooms, restaurants, fitness rooms and other public places. Among other things, the introduction of a cleanliness seal is planned.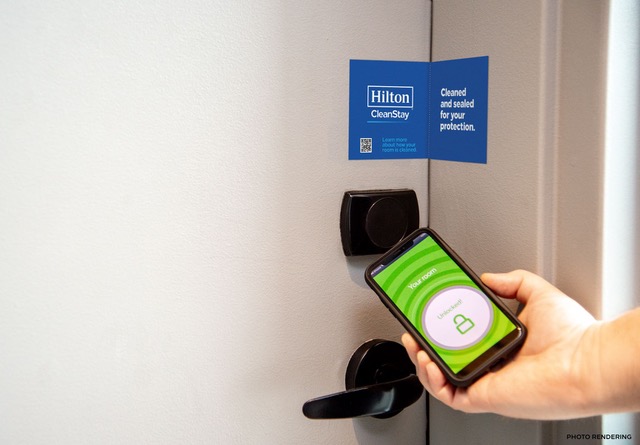 "Our top priority has always been the safety of our guests and employees," said Christopher Nassetta, President and CEO of Hilton. "Hilton CleanStay builds on the best practices and practices we have developed over the past few months, allowing our guests to enjoy their stay with us with confidence and focus on the unforgettable experiences we offer them – all while we protect our employees who are at the forefront of our operations. "
New global brand standards
The specific details of the Hilton CleanStay Initiative are still under development. However, the following axpects are already being evaluated:
Hilton CleanStay Room Seal: Add an extra measure of assurance by placing a room seal on doors to indicate to guests that their room has not been accessed since being thoroughly cleaned. 

10 High-Touch, Deep Clean Areas: Extra disinfection of the most frequently touched guests room areas – light switches, door handles, TV remotes, thermostats and more. 

De-clutter Paper Amenities: Remove pen, paper and guest directory; supplement with digital or available upon request. 

Focus on Fitness Centers: Improved guidelines for disinfecting the hotel Fitness Center, possibly closing for cleaning multiple times daily and limiting the number of guests allowed in at one time. 

Clean and Clean Again: Increase the frequency of cleaning public areas. 

Guest-Accessible Disinfecting Wipes: Provide stations at primary entrances and key high traffic areas, for instance, a station to allow guests to wipe the elevator button before pressing. 

Contactless Check-In: Hilton will double-down on its award-winning Digital Key technology for guests who desire to have a contactless arrival experience. Guests can check-in, choose their room, access their room with a digital room key and check-out using their mobile devices through the Hilton Honors mobile app at participating hotels. Hilton will continue to expand its Digital Key capabilities to common doors and access points throughout the hotels. 

Innovative Disinfection Technologies: Hilton is exploring the addition of new technologies, like electrostatic sprayers – which use an electrostatically charged disinfecting mist – and ultraviolet light to sanitize surfaces and objects.
Bottom line
It is inevitable that the hotel (and wider travel) industry will increasingly focus on hygiene for the foreseeable future. What will be interesting is the extent to which these general policies are enforced on a local level and whether they provide genuine reassurance for travellers.
Photos: (c) Hilton