Some links to products and partners on this website will earn an affiliate commission.
Given how frequently the question pops up in pub quizzes, more people than you might think know that KLM is the world's oldest airline. What they might not know though, is that KLM just celebrated its 100th(!) birthday.
Naturally, our good friends at InsideFlyer Netherlands were there to check out the party: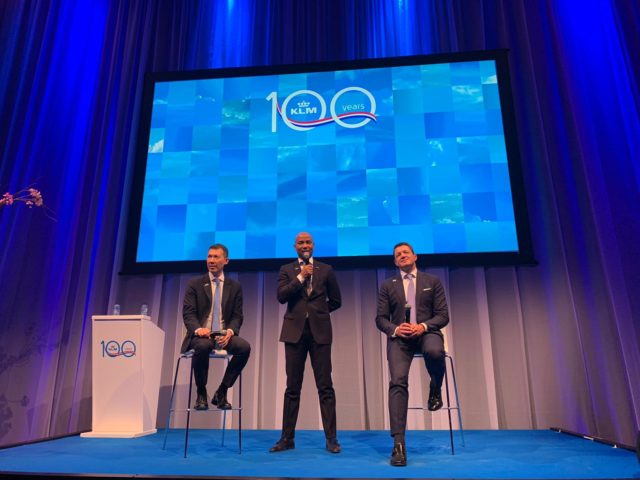 Kickoff
One of the maintenance bays of a huge hangar was transformed into event space. After an intro from a pianist (who played appropriate birthday music…) presenter Humberto Tan took the floor. The show started with a film that showed a timeline of KLM's history from 1919 to the present.
Tan then introduced KLM Netherlands Director and Senior Vice President Benelux, Harm Kreulen. Kreulen emphasised that KLM would not have manged 100 years without the support of loyal customers. Then the new brand movie from KLM, 'To more memories together', was unveiled:
'Welcome Aboard'
After the video, it was the turn of President Elbers to take the stage. He started by thanking all KLM staff and especially the team that organised the activities and festivities around the 100th anniversary.
Subsequently, the first copies of the 100th anniversary book 'Welcome aboard' were handed over.
House 100
Finally, it was time for the unveiling of the hundredth Delft blue house – the collectable (gin filled!) little houses that KLM hands out to Business Class passengers.
This year, Dutch Minister of Finance Wopke Hoekstra had the honour of introducing the unveiling:
"You will feel at home aboard a KLM flight. Wherever you are, the Netherlands is close by at KLM. Together with Schiphol, KLM is also of great importance for our connection with the world, and therefore for our employment. The world is no longer the same as a hundred years ago, but the pioneering spirit of Albert Plesman still reigns in the company. I wish KLM a wonderful centenary and a successful, innovative and travel-loving future, in which the company can continue to work together with Air France on that beautiful common goal: to become the best airline in Europe."
After a countdown from 10, flanked by pyrotechnics, the walls fell away and 'Huis ten Bosch' (the Dutch Royal Palace) was unveiled as House 100.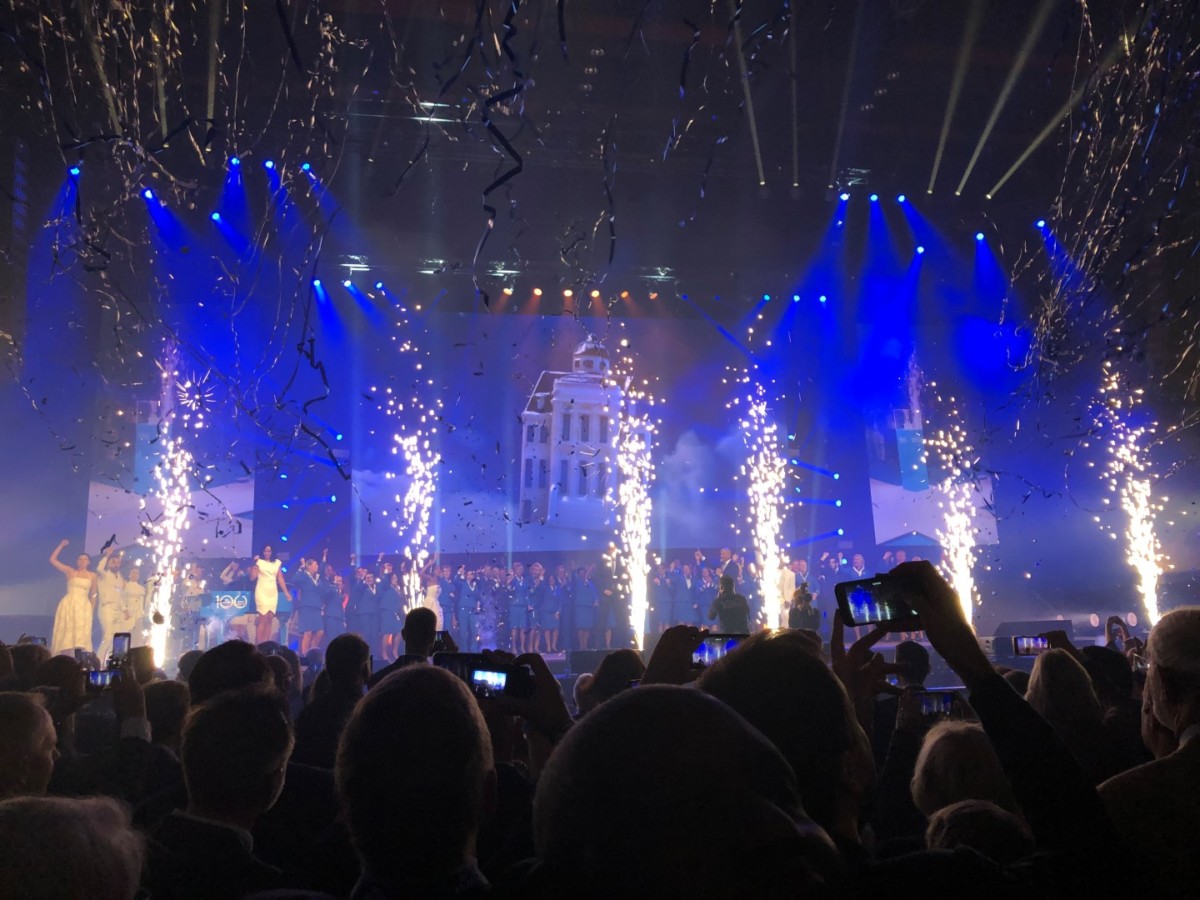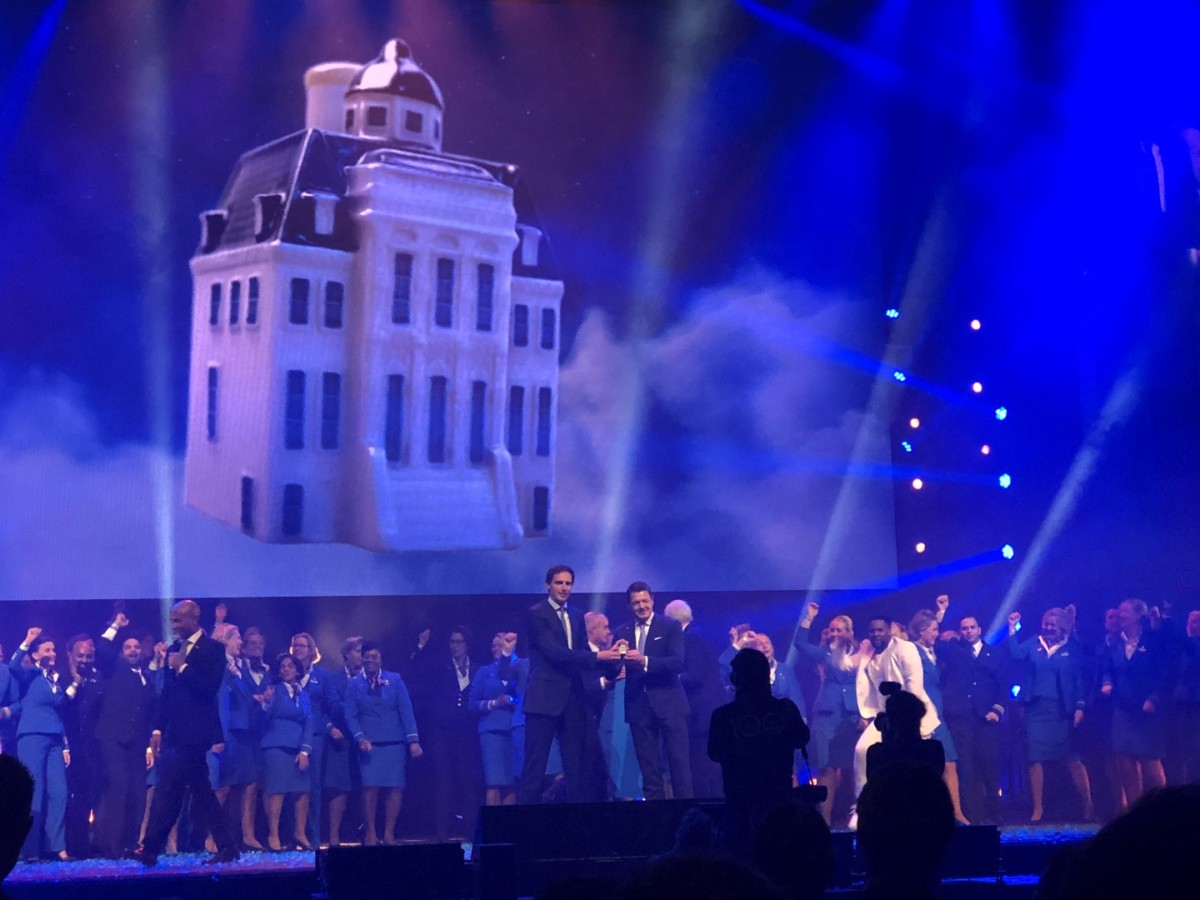 CEO Elbers:
"For me, Huis ten Bosch Palace symbolises KLM's special relationship with the Netherlands and with the Royal House in particular. I am proud and honored with the choice of this extra special 100 th  KLM cabin."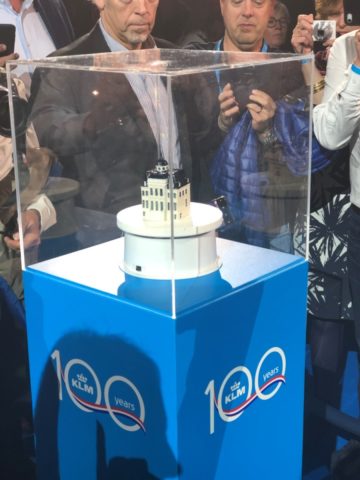 A version of this article first appeared on InsideFlyer NL.