Some links to products and partners on this website will earn an affiliate commission.
Qatar Airways normally flies to more than 100 destinations, but the schedule has been changed due to the COVID-19 situation. Nevertheless, as of last night (8th April), the airline was still flying to 46 international destinations so that passengers can travel to their home country.
In connection with the coronavirus, the airline's Privilege Club loyalty programme is offering members an additional 6 months of status. More information about status renewal and the programme can be found here.
Qatar Airways flies to many destinations
In Europe, Qatar Airways is still flying to 21 destinations, including London, Manchester, Edinburgh, Dublin, Amsterdam, Frankfurt, Helsinki, Budapest, Prague, Athens and Munich.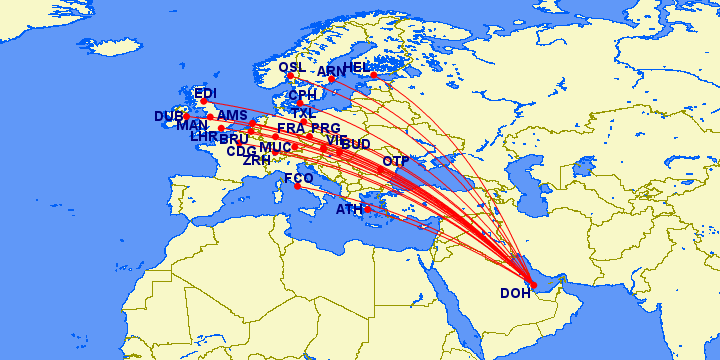 In addition to Europe, Qatar is still flying to North America, South America, Africa, Asia and the Middle East. Several flights a day have recently been added to Australia in particular. In this way, residents of the various countries can still fly back to their home country.
To South America, Qatar Airways now only flies to São Paulo Guarulhos International Airport. The airline also flies only to Zanzibar and the Seychelles in Africa. Within the Middle East, you can only fly to Tehran with Qatar Airways (although a lot of regional flights had ceased prior to coronavirus anyway as a result of political tensions).
On this page of the Qatar Airways website you can find the latest information about the flights and destinations, as things can change rapidly at the moment.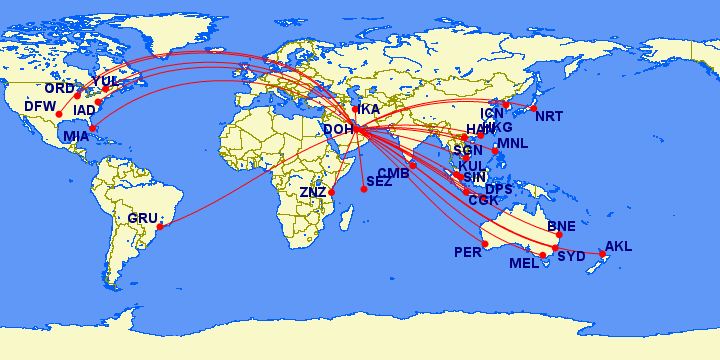 Please do take notice of the official UK Government advice though, which currently advises against ALL non-essential travel overseas.
Qatar Airways ticket already booked? These are your options
If you can no longer travel, you can choose to change your travel dates or destination, request a voucher or request a refund. This applies to all tickets issued no later than September 30, 2020, and for travel until September 30, 2020. You can do this by:
If you have booked your ticket through a travel agent, please contact your travel agent to change your booking, exchange your ticket for a future travel voucher or arrange a refund.
If you have booked directly with Qatar Airways, a travel voucher will be automatically emailed to you. This will be equal to the value of your unused ticket – plus an extra 10%, excluding legal taxes. If you prefer to rebook your tickets or arrange a refund, please contact the airline
All conditions and information can be found on this page of the Qatar Airways website .
Measures at Hamad International Airport (Doha)
The airline's hub is Hamad International Airport (DOH). The airport has taken many measures to ensure the safety of passengers and employees.
As far as hygiene measures are concerned, the airport has introduced strict cleaning procedures. Most non-essential passenger facilities are closed and all things that passengers touch are cleaned every ten to fifteen minutes. The gate areas are also cleaned after every flight. Staff have been given additional instructions and may also wear masks and disposable gloves for protection (in accordance with the WHO recommendation).
Transfer passengers are checked and processed with social distance maintained as much as possible. Most food and beverage outlets are closed, but a few are still operational for passengers to use. Retail is also closed, with the exception of a number of essential shops such as a pharmacy. The transit times for the flights have also been minimised and the use of buses to board has been minimised.
Passengers coming from a country with a severe coronavirus outbreak are screened with thermal screening. Thermal cameras have been installed that measure the body temperature of each passenger. If a passenger has a fever, they will be taken to an airport clinic for a check-up.

Images © QatarAirways & GreatCircleMapper