Some links to products and partners on this website will earn an affiliate commission.
Dubai International Airport is one of the world's largest airports. Because of its size and crowds, it can be overwhelming for some travellers. During peak periods, lines can be long as well. To fast track passengers through the airport, there are various agencies which offer a Meet & Greet service. Marhaba, part of the dnata/Emirates Group offers meet & greet services on departure, transfer and arrival, as well as operating multiple pay-per-entry lounges throughout the airport. These can be booked by any traveller through their website, or also Emirates if you're flying Dubai's home airline. You can even pay with Skywards miles. After arriving from Düsseldorf on Emirates, I tried the Meet&Greet in Terminal 3.
Marhaba Meet&Greet on Arrival
There are three packages available: Bronze, Silver and Gold. With all three packages fast track access at passport control is included. You are escorted through the fast track or GCC National line. With the Bronze service, you have to report at the meeting point in the arrival hall to meet your escort. This service costs around 24 GBP per person.
With the Silver service, you are met just after leaving the aircraft by a host/hostess. If available, you are driven to the arrival hall with an electric buggy. After passport control a porter will take you luggage to the exit of the airport. The Silver offering costs around 37 GBP. It is possible you will be escorted together with other passengers.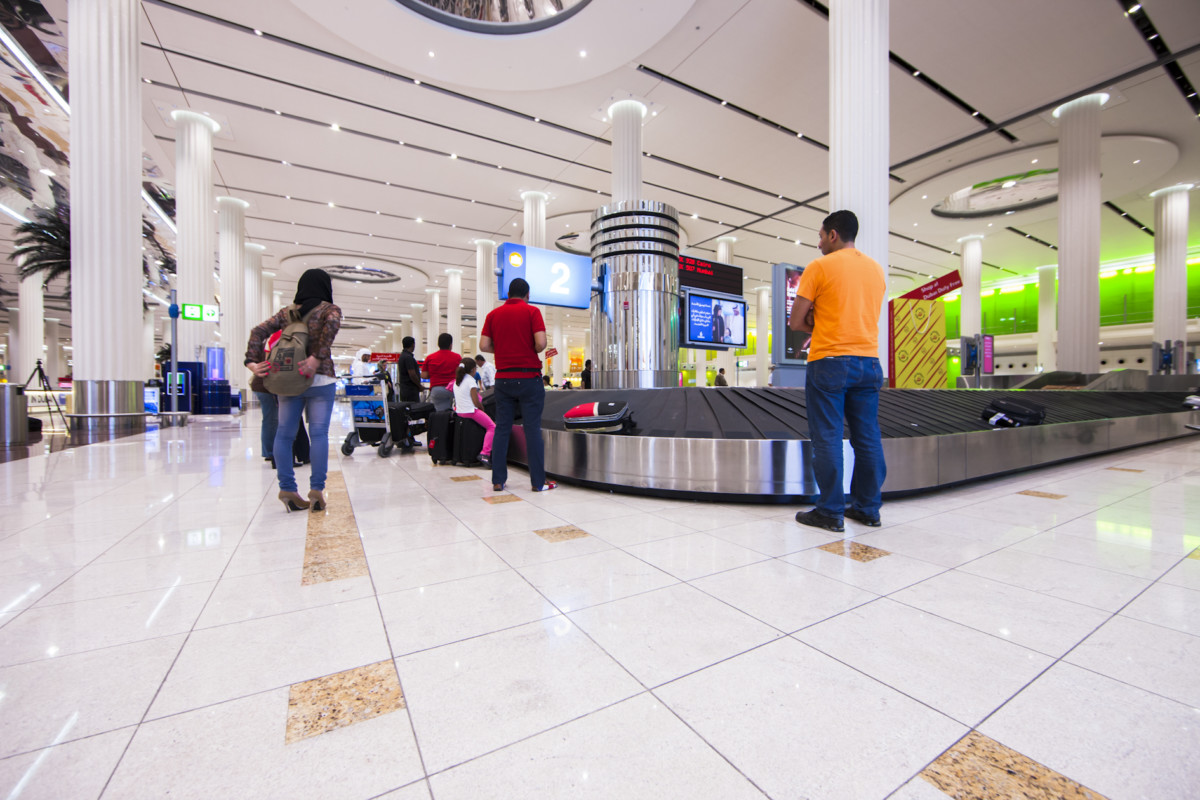 If you want a dedicated one-to-one service, you can opt for Gold at around 80 GBP. You are then guaranteed a personal host/hostess. Furthermore you will have access to the Marhaba lounge upon departure. However this is also a Priority Pass lounge so you may already have complimentary access through PP.
If you are traveling with a family of maximum 4 persons, you can choose the dedicated Family service for around 83 GBP. This is basically the Silver service for multiple members of the same family, and also offers special attention for travellers with children such as offering strollers.
My Experience
Marhaba offered me the chance to try out the Silver package. After exiting the aircraft, the hostess was already standing ready holding a sign with my name on it. Subsequently we were driven to the people mover by golf cart. Depending on the terminal where you arrive, you can be driven straight to immigration control, or you first have to travel to Concourse B by automated people mover. The buggy service can save passengers a significant amount of time and walking, but this entirely depends on your arrival gate.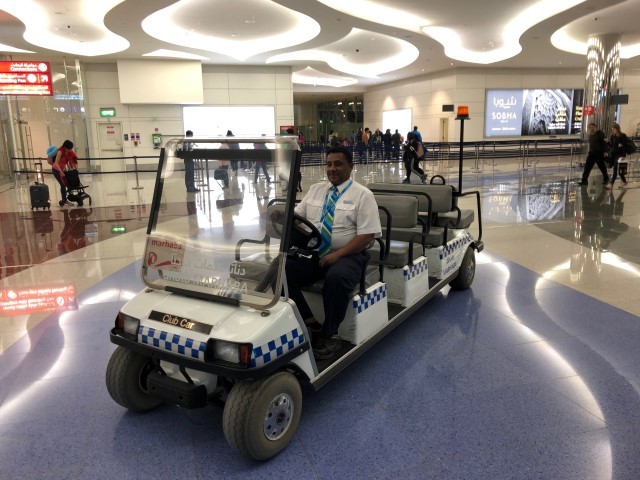 Once in the arrival hall, we handed our passports to the escort who guided us through the fast track lane. It was immediately our turn while there was a queue at the regular booths. After passing immigration a porter was standing ready. We handed our claim tags and the Marhaba staff took care of getting our suitcases from the belt. Unfortunately Marhaba can't influence the baggage delivery, which can take quite a while in Dubai. Especially if you're on a flight with many transfer passengers whose luggage has priority. Once the luggage arrived, the hostess accompanied us to the taxi rank. They were also happy to wait while we visited the ATM and bought a SIM card. The staff were very nice throughout.
Is the Meet&Greet worth it?
The Meet&Greet service definitely saves queuing, and is a very comfortable way to pass through DXB. But is it worth the fees? Of course that depends on how much you value your time and a smooth travelling experience, as well as your date of travel. I travelled outside the main holidays so the lines at immigration weren't too bad. If you are travelling First or Business Class on Emirates, you can already make use of Emirates' own fast track and with a British passport you can also use the Smart Gates after registration. However, during earlier trips I have waited in excess of 30 minutes at passport control.
If you are traveling in the busy holiday period, the Bronze or Silver service (depending if you're familiar with DXB and/or cannot walk long distances) can be a great way to save time and waiting in line. If you are travelling with (small) children, the Family service is definitely worth considering as well. It can make the journey less of a hassle and can save time as children can't make use of the Smart Gates.
Images: Dubai Airports
Disclaimer: The Meet&Greet service was provided complimentary by Marhaba